Camping in the great outdoors is always more enjoyable with the right tools and gear. The heavier camp chores often require something a bit more-beefy when it comes to knives; something that can be used to make tent pegs, split small logs, quarter large game, build shelters, chop large vegetables, etc.
Each camp knife is hand-forged from 1084 or 5160 high carbon steel. I prefer these steels on larger knives because they can be differentially heat treated for maximum toughness and impact resistance, two important qualities for chopping knives. A differential heat treatment results in a cutting edge that is hard with excellent edge retention and a spine that is spring-steel soft for maximum toughness.
Each comes with your choice of a micarta, burlwood, or straight-grained wood of your choice.
Thank you so much for completing so quick. Knife is better than I imagined. Your work is amazing. Thank you and take care.

Tobin, Cashion, OK
Sandia Clip
I true camper's delight, I hand-forge this popular model from 1084 blade steel and then differentially harden the cutting edge for a reliable camping tool, then fit with a beefy single guard of 416 stainless, and either micarta or an attractive wood, such as the desert ironwood featured in the photo. What makes this knife unique is that I crown the spine of the blade all the way to the tip so the user can baton anywhere along the spine if needed to split wood, big game quartering, or for fine work at the tip. Comes in a 7-inch or 10-inch blade length, micarta or wood handle of your choice, and a wood-lined sheath, making it my pick for best all-around camp knife.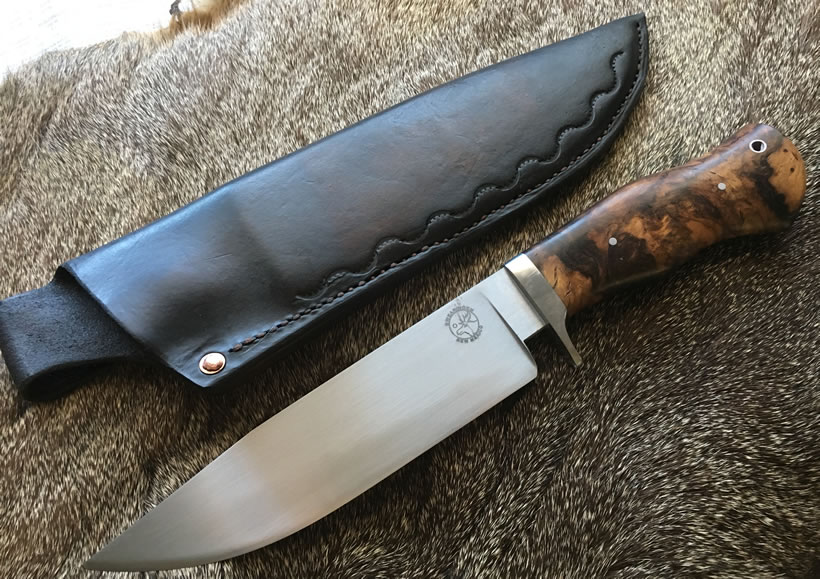 Price: $875
Enquire about the Sandia Clip
Mesa Scout
For those who want to do some heavy chopping and camp chores, the Mesa Scout is the stoutest model I make. I hand-forge this model from 5160 steel into a stout spear-point design with a false edge for weight reduction at the tip making it more light-and-lively in the hand to reduce operator fatigue during repeated chopping. I then fit with a large double-guard to protect both the fingers and top of hand during heavy use. Comes in an 11-inch blade, micarta or wood of your choice, and a wood-lined sheath.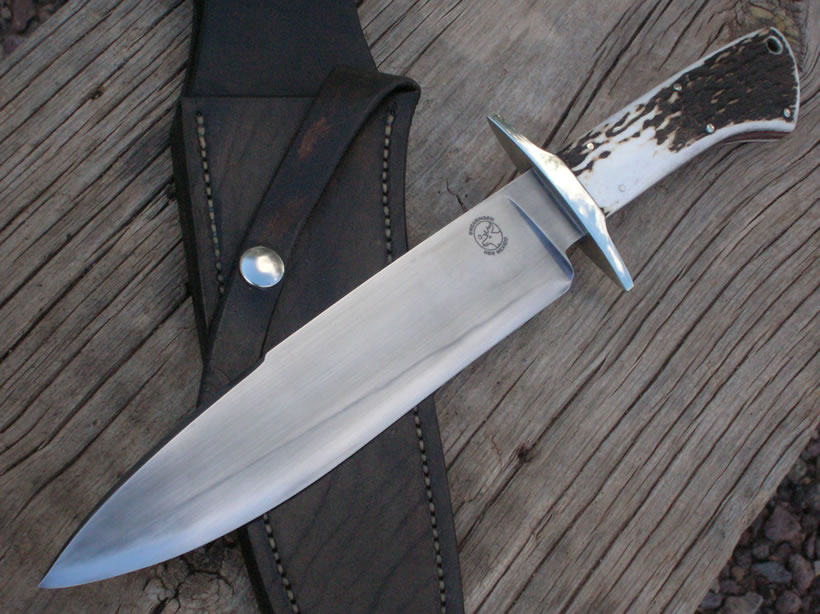 Price: $1,000
Enquire about the Mesa Scout
Rhino Chaser
I hand-forge this model from 1084 blade steel hot forming it into a relatively short, but wide blade making for a most compact camping knife and ideal for backcountry use. Like the Sandia Clip, it comes with a clip-point tip and rounded blade spine working well from heavy baton work to fine hand work at the tip. Features a 5-inch blade, single guard, micarta or wood of your choice and a wood-lined sheath.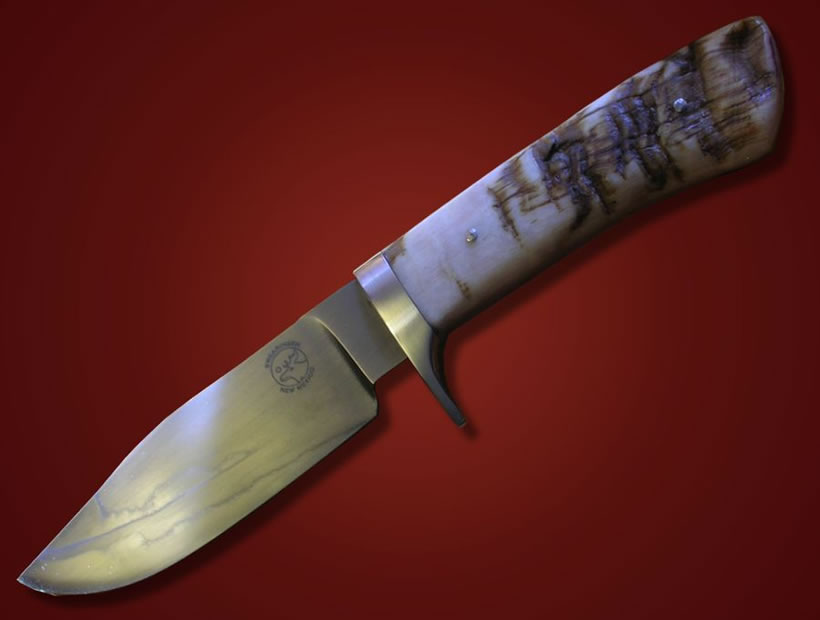 Price: $675
Enquire about the Rhino Chaser
Kurt's Camper
I made this knife for myself a few years ago to create a camping knife with a more bowie-like look and feel. Forged from 5160 steel, this knife features that distinctive bowie clip point with a semi-sharpened false edge making for a very light-and-lively knife for camping use. The sculpted double-guard is comfortable to use providing protection for the entire hand when heavy chopping is needed. Features a 10-inch blade, micarta or wood handle of your choice, and a wood-lined sheath.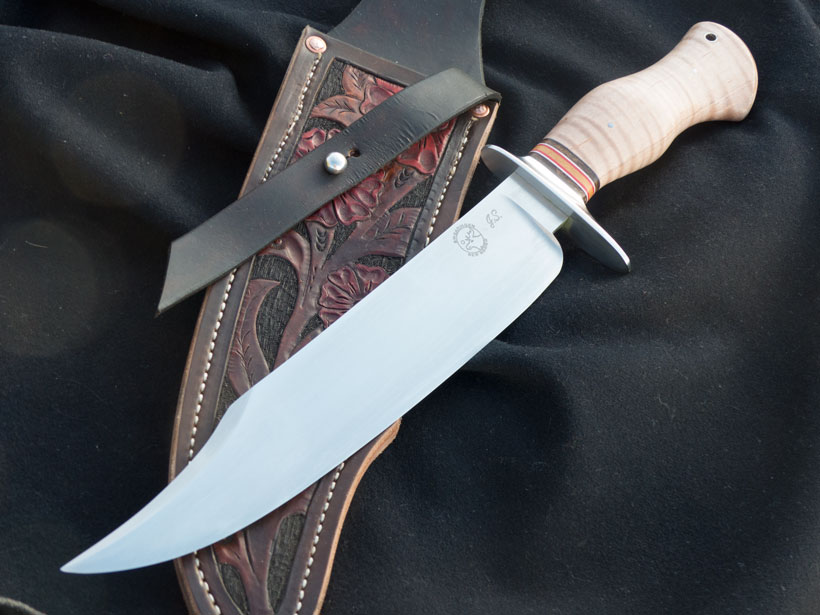 Price: $925
Enquire about the Kurt's Camper
Aerolite
For backcountry adventures, this classic Loveless design of CPM 154 stainless makes for a stout cutter near the guard but with a fine tip for bird and trout chores, perhaps the best knife for extended backpacking as it is both compact and light. It is my personal choice for wilderness backpacking when weight matters.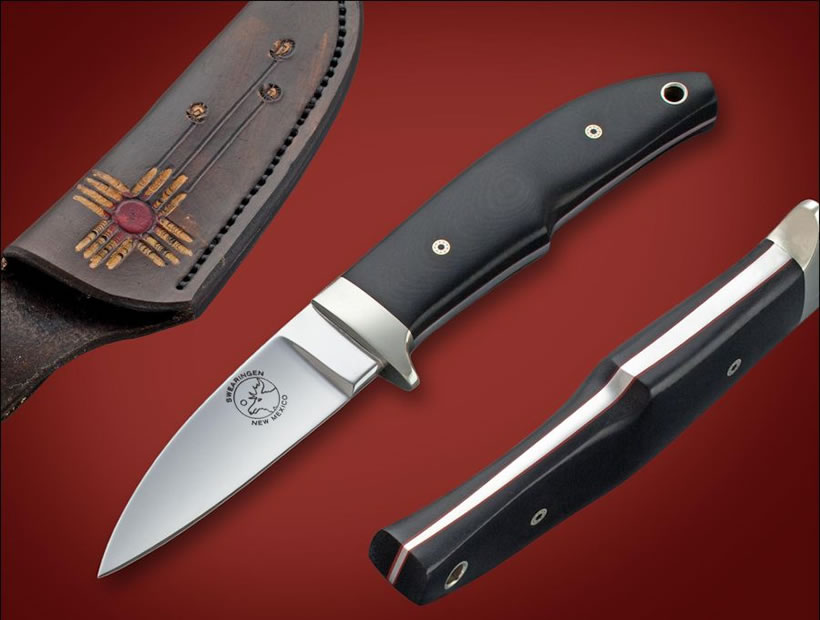 Price: $475
Enquire about the Aerolite
Sheaths
Each camp knife comes with a wood-lined Swearingen Sheath. A longer blade requires a longer sheath, which could result in too much leather flexing if only leather was used allowing the blade to cut through the leather and injure the user, so I custom fit a slab of basswood around each blade, then wet-mold heavy leather with a belt loop on each of my camp knives keeping the user's knife safe and secure until needed for that next camping adventure.
Feel free to request your initials or art work on your sheath.
Handles
While burlwood, desert ironwood, and straight-grains woods—along with micarta—are complementary with any Camping model, Sambar stag, sheep horn, or mammoth ivory are also available for an additional charge.