Once a year, I set aside time to make more unique and artful knives. This gives me the chance to try out new original designs, expand my artistic expression, explore historical methods of use and manufacture, and learn more about specific applications my customers need in their outdoor adventures.
These pieces are designed to enhance the outdoors for my customers, including those who are already using a Swearingen Knife so for those esteemed customers already using a Swearingen Knife will receive a 10% discount on all seasonal offerings.
Southwest Hunting Dagger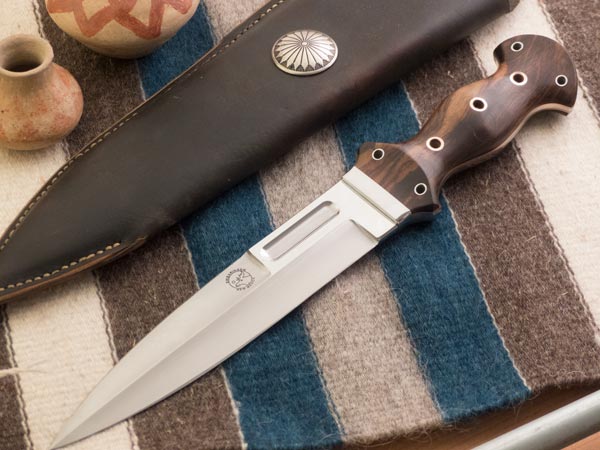 An original Swearingen design, this field knife can handle the most rigorous wilderness use from survival to defense to hunting and would be my knife of choice if lost in the wilderness. Made from CPM154 stainless at a slightly lower Rockwell hardness for increased toughness needed in times of heavy use, it features an 8.5-inch double hollow-ground blade sharpened top and bottom with a finger groove to safely choke up on the blade for finer chores, as well as a full-tapered tang clad in desert ironwood burl and multiple lanyard holes to secure to the wrist or a stick to make a spear. Comes with a wood-lined sheath that features a cam in the welt so the knife "clicks" into the sheath securely, adorned in a Navajo concho.
Price: $1,650 (available)
Enquire about the Southwest Hunting Dagger
Wilderness Boot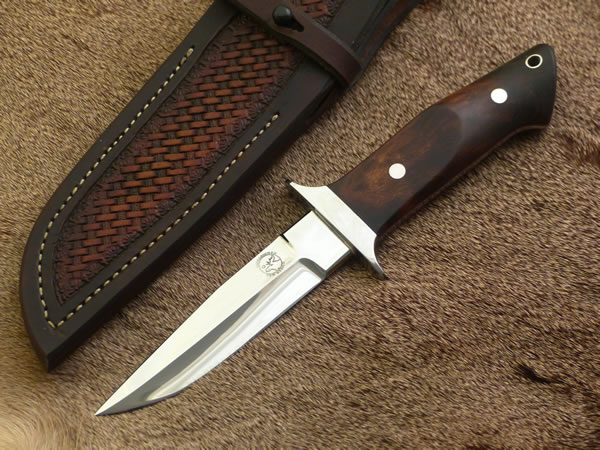 The Loveless ethos is alive in this wilderness fighter design made from CPM 154 and featuring a 4.5-inch double hollow-ground blade and full tapered tang, a double guard and premium desert ironwood burl with classic red liners; all housed in a specially designed sheath that allows rapid deployment without having to undo the keeper strap.
Price: $950 (available)
Enquire about the Wilderness Boot
Crown Pommel Set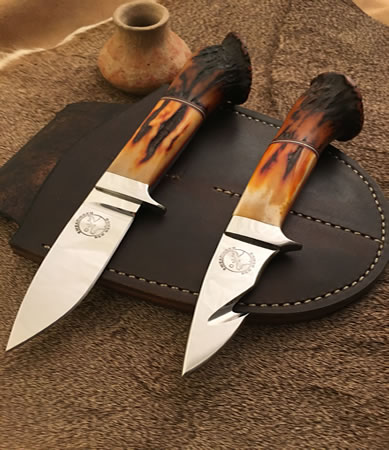 SOLD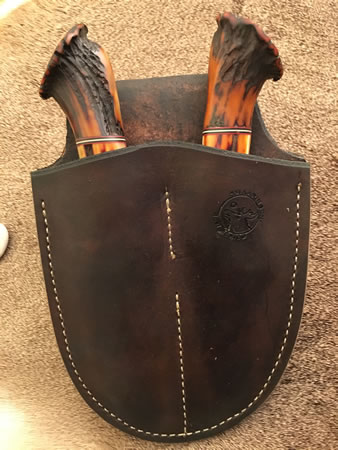 SOLD
For the serious hunter, this two-knife set features a gut hook and dropped hunter knife made from CPM 154 with half-tang construction on the handles clad in amber stag scales and crown pommels, housed in the same sheath for ease of carry and use.
Price: $1,250 (SOLD)
Enquire about the Crown Pommel Set
Mesa Scout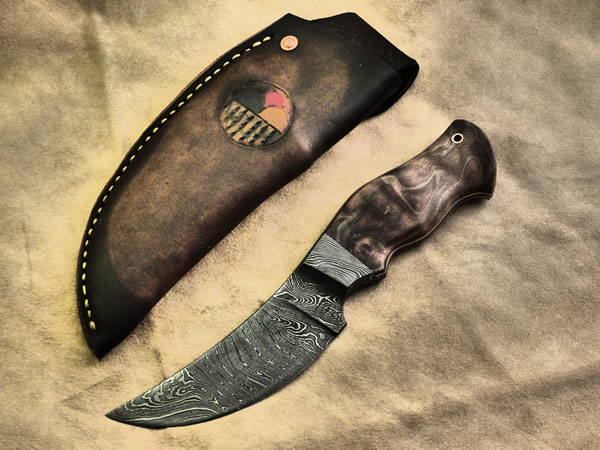 SOLD
An original Swearingen design, this knife is made from twist Damascus, forged to shape into an all-integral design with a full tapered-tang. The handle is stabilized quilted maple with copper liners fastened to the tang using hidden pins and a copper lanyard tube, all which fits into a wood-lined sheath with a decorative walking-rain motif, and yes, the knife "clicks" into the sheath via a leather cam holding it securely over the roughest terrain.
Price: $1,350 (SOLD)
Enquire about the Mesa Scout
EDC Ulu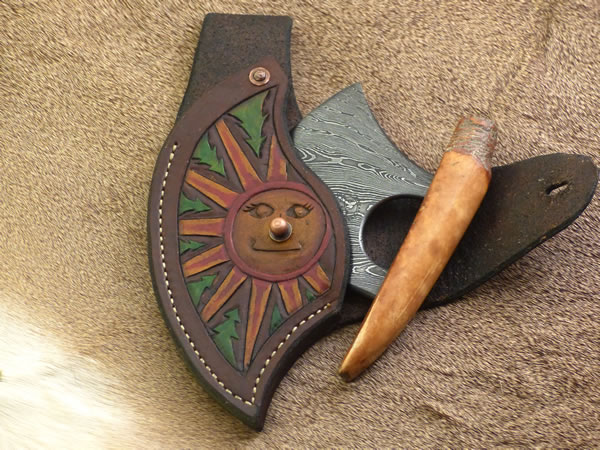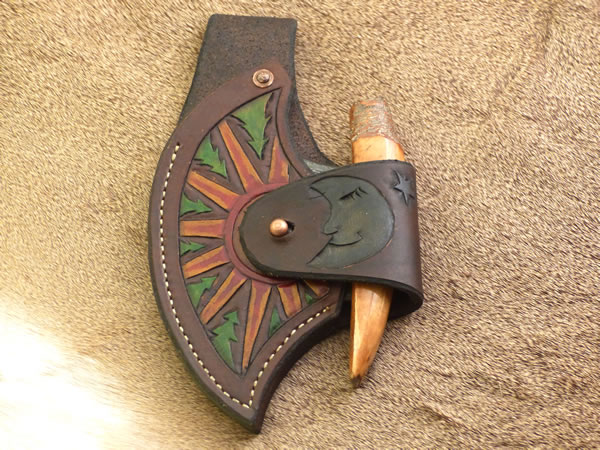 An original Swearingen design, this Alaskan-styled Ulu features a twist Damascus blade mortised into fossilized walrus ivory of artifact origins, appearing to have been previously used at the end of a stick by an Eskimo to test for snow firmness. Comes with an original Swearingen-designed sheath for everyday carry that depicts the ulu asleep when closed (moon) and awake when open (sun).
Price: $1,450 (SOLD)
Enquire about the EDC Ulu
Lawndale-Styled Gut Hook Skinner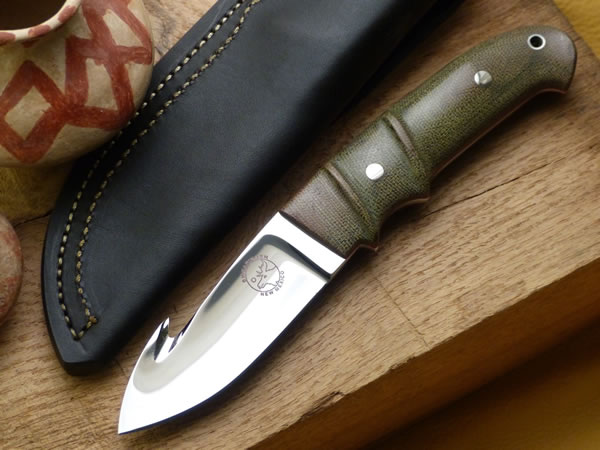 After many years of requests from hunters, this long overdue gut-hook skinner is finally part of the Swearingen line-up – well, almost; I plan to use this same unique knife on an upcoming elk hunt in January and will post a performance review soon after.
This gut hook hunting knife harkens back to the early days of Loveless designs when Bob Loveless worked in Lawndale, CA. It features a 3 7/8" blade of CPM 154 stainless with a high hollow-grind for effortless skinning performance and spine-mounted gut hook razor sharpened to perfection for efficient big-game processing. The full-tapered tang is outfitted with a handle of heavily contoured vintage green canvas micarta that provides the added grip needed when working in extreme field conditions.
Price: $725.00
Enquire about the Lawndale-Styled Gut Hook Skinner
Rhino Chaser Camp Knife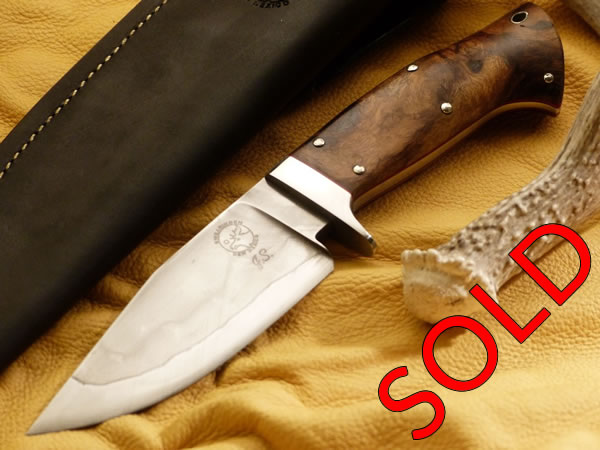 This full-tang version of my popular Rhino Chaser camp knife is reminiscent of the early days of outfitted hunts and camping when a knife had to do it all -the 5 inch, extra wide blade of hand-forged W2 tool steel will do it all, and then some. The differential hardening of the blade invites heavier work from battoning through stout logs to whittling camp pegs and even tackling the biggest of game chores, while the durable desert ironwood burl handle gives it a unique southwestern flare.
Price: $795.00 (w/full-tang)